Learn Simple Steps to Becoming a Great Music Parent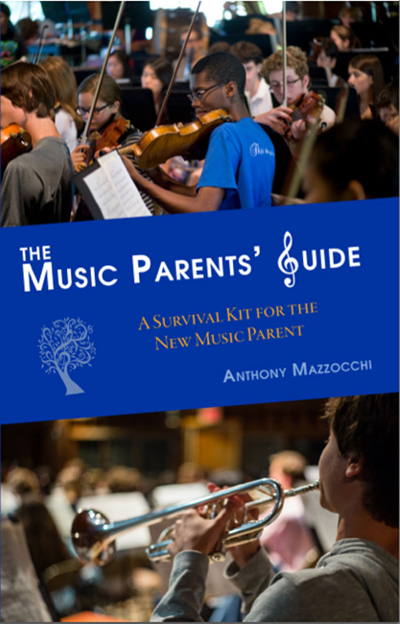 It's a lot easier than you think!
"This book has some beautiful, easy-to-understand, and practical suggestions for all parents whose children are enrolled in music programs in their schools. It should be required reading!"
—Lorraine Combs, American String Teachers Association
THE MUSIC PARENTS' GUIDE: A SURVIVAL KIT FOR THE NEW MUSIC PARENT
ANTHONY MAZZOCCHI

Arm yourself with the knowledge to support your child's musical growth
Have you ever been (or are you about to be?) confronted with the task of supporting your child's interest in a musical instrument, when you have little or no musical experience yourself?
It can seem a little intimidating. But it doesn't have to be.
Helping your child with math and English class assignments is pretty straightforward. Why? Because you've been through those classes yourself—so you have a strong frame of reference for that.
But what do you do if you've never played an instrument, and your child comes home from music class with an interest in learning the guitar, the drums, the piano…or the trombone?!
Where do you start? What do you say? What do you do?
Relax. It's much easier than you think.
That's because in his new book, The Music Parents' Guide: A Survival Kit for the New Music Parent, GRAMMY® nominated music educator, Anthony Mazzocchi, delivers an easy-to-follow game plan that makes it simple for any parent to be a great music parent.

Forget the myth that some kids are just musically gifted
It's a sad fact. Eighty percent of children who take up a musical instrument quit after just one year. Often it's because children or their parents decide they simply don't have "the gift" of music.
You see, there's a myth out there that some kids have "a natural talent for music," and that's why they become good at playing an instrument.
Forget this myth. In fact, bust it into a million pieces because it just isn't true.
The truth is, learning to play an instrument is a craft. And like any other craft, playing an instrument well requires learning to practice often, and learning to practice the right way.
In The Music Parents' Guide, you'll learn through quick and easy steps that any child can learn to play an instrument well—and any adult can learn to be a great music parent.

Discover why music lessons are valuable lessons for life
Down-to-earth and straightforward in its approach, The Music Parents' Guide demonstrates that guiding your child through music lessons will help them learn valuable lessons in life.
Learning an instrument teaches children about discipline, structure and self-reliance. Through The Music Parents Guide, you'll discover how learning an instrument is a gateway through which your child will:
Develop a solid work ethic and build strong character
Learn the benefits of consistent practice in any life endeavor
Realize the importance of grit, self-motivation and creative thinking
Most important, you'll learn that if you can help your child with their history homework, or teach them how to do yard work—you are more than qualified to help them grow their music muscle.

Tap into a practical resource that makes being a music parent fun
Ten minutes of practice a day. That's all it takes for your child to start building their music muscle and all the character-building benefits that come from it.
And you don't have to be artsy or musically inclined to help them do this. You just need to be practical and consistent. It's just like teaching your child anything else.
In a style that's conversational and accessible, The Music Parents' Guide will make it easy for you to:
Assist your child in picking the right instrument to play
Interact with your child's music teacher in a way that's constructive and productive
Remind your child that learning to play requires consistent practice and discipline
Recognize through listening whether your child is practicing correctly
The Music Parents' Guide takes less than an hour to read, and then it's always at your fingertips as a friendly resource that will have you saying:
"Supporting my child's interest in learning an instrument isn't such a big deal. I can do this!"

Raves for The Music Parents' Guide

"Mr. Mazzocchi understands the value of music education because he has lived it as a student, performer, and teacher. His passion is translated into practical, helpful advice that can be immediately implemented to make a difference in the lives of students interested in building a life-long love for music. I highly recommend his book."
—Eric Matzat, President, Palen Music Center, Inc.

"This is required reading for every parent with a child currently learning, or considering learning how to play an instrument. Give your child two things when starting music lessons: a good instrument to learn on and a great teacher. Give yourself this book, practice what it preaches, and you'll have the formula for musical success for your child."
—Billy Cuthrell, Founder, Progressive Music Center, NC

"Anthony Mazzocchi crafts an insightful and informative guide for the music parent-to-be. Mazzocchi is respectful of the challenges facing a modern music parent, managing to be progressive in his views on both instrument selection and musical choice, while also remaining true to the art of the discipline and the history of the craft. An important read for parents preparing to invest in their child's musical future."
—Christopher Woodside, Assistant Executive Director, National Association for Music Education

"This book has some beautiful, easy-to-understand, and practical suggestions for all parents whose children are enrolled in music programs in their schools. It should be required reading!"
—Lorraine Combs, American String Teachers Association