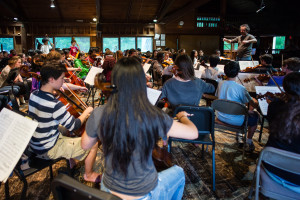 Playing a musical instrument is fun, of course.  But school administrators, teachers, parents, and students all have a different idea of what "fun" actually means when it comes time for the arts in schools.  I believe that without a unified definition of "fun" as it pertains to music education, more music programs will continue to be cut from school curricula.
I've written about why music programs are cut from school, and one of the reasons is that it is not treated like — or approached as — a core subject in the curriculum.  Music is not a "frill" subject — quite the contrary.  Music education has many magical benefits that we read about when it is taught masterfully and supported by the entire school community.
Even after several studies of music's powerful effects on the brain have been completed, too many parents think instrumental music is simply a fun break in the day that requires little work.  Music teachers are nervous to add rigor to their classes in fear of students quitting, and school administrators don't know what to think — they just don't want their schedules to be complicated and need their state report cards to look good.
Here are a few ways learning instrumental music is (and isn't) fun in a school setting:
First and foremost, it's fun to sound great.  Creating beautiful sounds is fun; getting better (and knowing how to get better) is fun; striving for greatness is fun.  Conversely, making poor sounds with bad posture in a room with others doing the same thing is not fun.  Not knowing how to practice and, in turn, not getting better isn't fun.  Performing in public and knowing the product is not good (trust me — young students know this, even if they can't quite put their finger on it) is certainly not fun.
Getting better and learning is fun.  When teachers identify students' comfort zones and find that magical place right beyond that zone where each student can achieve great things with a little bit of struggle — everyone has fun.  It's not fun to be stagnant during what should otherwise be an exciting learning curve.  It's fun to put away the instrument at the end of each day and know you got just a little better.
Balancing rigor with play is fun.  Instrumental music class is a place where children make friends, solve problems by doing, and overcome their fears by experimenting, taking risks — and even failing — in a supportive environment.  Our schools are becoming more and more standardized, and in the process they are eliminating opportunities for play to occur in the curricula.  Without clear expectations and rigor in the music classroom, however, play becomes nothing but fooling around with noisemakers — not fun.
Being exposed to great musicians is fun.  When students have a chance on a regular basis to have a connection with great performers, their motivation increases several-fold.  It's fun to have a vision of what you want to become, and then strive to realize that vision a little every day.  It's not fun to be directionless and lack clear goals.
Taking ownership over learning is fun.  When a student understands "why", "how", "where" and "when" to practice, they have been given power.  They will feel a sense of responsibility, which will then lead to self motivation and routine.  Ideally we want our children to have ownership over their own learning in every aspect of life, and music education is a wonderful way to teach this.  It's not fun to have little or no understanding of how to get better at playing a musical instrument.
Experiencing beautiful music in an ensemble is really fun.  Music is fun when it builds a team.  Much like sports, when an ensemble sounds great it is like a team playing well; when a piece is played well it is like a team "winning" a game.  But a lot of work goes into molding a great ensemble; it takes time, and everyone has an important role to play.  When executed correctly, working on and performing a piece of music is really fun.
Parents must learn what "fun" with music means.  Most parents did not spend their entire K-12 lives in music class.  Those who did may not have participated in great programs, since there are not enough of them in our nation.  Parents' vision of fun in music may be defined by a (perceived) lack of "homework" and a social outlet during the school day — we call that lunchtime and recess.  While music class is an amazing social and emotional reprieve from a high-stakes testing culture, it is not a time to be less mindful of excellence and therefore careless.
Just because students can opt out of music shouldn't change the way it is delivered.  When taught well with a high expectation for all students, music is more engaging and fun than many other subjects.  Students can't quit math or English if it isn't "fun", and the same should go for music.  Of course it is true that many teachers feel the need to "entertain" their classes in order to retain students, but that should be done by creating a culture of excellence, not watering down instruction due to a fear of scaring kids away.
Instrumental music is an amazing addition to school curricula when it is taught masterfully and supported by administration and parents.  In order for music to stand up with the other core academic subjects, it must be taught with rigor and a professional-level expectation of children, musically and otherwise.  Music is not sustainable as a class if it is mediocre — it will only be "fun" that way for a short period of time, and then most students will quit because they don't feel they are getting better and they are not a part of something "bigger" than themselves.
Knowing what we now know about brain development and how children learn, it is unfair for us to teach music without the mindful rigor it deserves.  It is only when students experience firsthand how to become great at something that music education will truly be "fun".